LiveSplendidly! Winter Sunday Cycle 2018
Join me on Sunday's in February through the end of April for some indoor rides that will help you get ready for the 2018 season.  Beginning on Feb 4 and running through to the end of April – we'll ride indoors to build some strength and stamina so you're ready for the next season.  You will bring your own bike, wind trainer or rollers and a mat to each class.  These will run from 10am – 12noon on the following dates.  Registration is available now – so don't miss out as there are limited spots and some are already taken.  Registering for all will allow for you to progress nicely through the winter.
February 4, 11, 18, 25
March 4, 11, 25
April 8, 15, 22
Investment: $138+GST for all 10 sessions or $18 drop in but preference will be given to those registered.
Location: Spruce Cliff Community Centre.  608 Poplar Rd., SW Calgary (just off Spruce Drive).
Contact me directly to register.
Princess Pedal Clinics
Learn to Ride Your Bike Comfortably
Calgary Clinics 2018 – a great way to gain confidence and skill. Learn to ride safely and efficiently.
There were two clinics offered in June, 2017 and they went very well.  One was for road riding, and the other was a "Townie", catering to ladies interested in pathway and City riding.
2018 dates include:
Clinic 1 – June 20, 21, 22 (Townie)
Clinic 2 – June 28, 29, 30 (Roadie)
If you are interested in organizing a clinic for you and a few friends, I can pull one together for as few as 4 people. If you have girlfriends who are interested, contact me directly and we'll set something up. If you prefer a private or semi-private clinic for you and/or one or two friends, that can be arranged as well.
Cost: $170+GST per person for groups of 4 or more.
Prices will be adjusted for smaller groups.
These three-day, 9-hour clinic is a "sampler" of the Princess Pedal Camps (see below) and include skill development, confidence building and having some fun on the road. If you are interested in getting into some road or in-town (Townie) riding yourself, but need a little information and skill to feel confident to pursue it – join me for my clinics. The very popular"Townie" clinics are for Princesses more interested in cycling on the pathways in the City, is ideal for commuter wannabe's and those interested in exploring Calgary.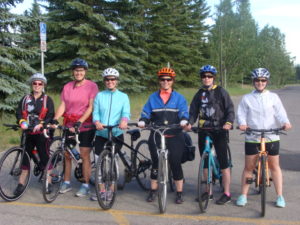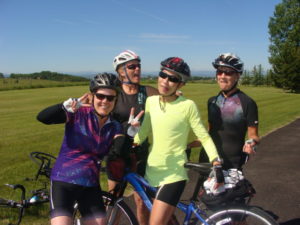 The general clinic format:
Day 1  – personal bike skills, safety and bike maintenance,
Day 2 – hill skills and ride and
Day 3  – pace-line skills/riding in a group, and ride.
Limited to 6 riders in each session. Reserve your spot! Contact Colleen at info@colleenparsons.com.
Private clinics are available. If you would like help getting back-in-the-saddle — drop Colleen a line at info@colleenparsons.com. This clinic can also be translated into a corporate group team building event.
---
Princess Pedal Camps
Women's cycling is taking off. Look out world, the number of Princesses Pedaling is on the rise. Penticton Princess Pedal Camp, 2017 was a terrific success. Five Princesses total, beautiful weather, wonderful riding, and pampering beyond belief! What more could a cycling Princess want? Check out the BLOG in this website for more information.
Princess Camp for 2018
We had so much fun that we think the camps for 2018 will fill.  To reserve your spot, check out the information below.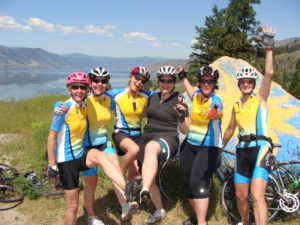 Costs for Princess Pedal Camps 2018 will be $1975 +GST per person. Limit of 5 riders per camp. Non-refundable deposit of $500 +GST is due upon request to hold your spot. Final payment due April 1 , 2018.
To tempt you…this week long women-only all-inclusive road cycling camp (accommodations, food and coaching) is meant for newcomers to long distance road riding and intended to kick start the outdoor season by enjoying the lovely surroundings of Penticton, BC and area. All riders should be of sound physical health and will be asked to complete a Physical Activity Readiness Questionnaire (PARQ) prior to registration. The riders must be relatively fit, but not necessarily 'race ready'. To help you prepare registrants will receive weekly indoor cycling workouts beginning in January.
This camp is not a competition in any way, shape or form. The environment is encouraging and supportive… but don't be fooled – you should expect to be challenged!
If you are interested in this camp – please contact Colleen directly at info@colleenparsons.com.
Camp #3 Pending – June 10 – 15, 2018 – A departure from the usual – this will be a mixed gender tour designed for members of the Elbow Valley Cycling Club. More details on the EVCC website for members will be posted at a later date.  Join EVCC  for $30 and have access to this tour and so much more.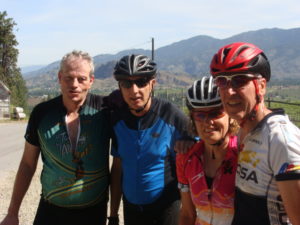 ---